Contact Information
For all bookings, please contact the Facilities Manager
Email: crystalwatersfacilities@gmail.com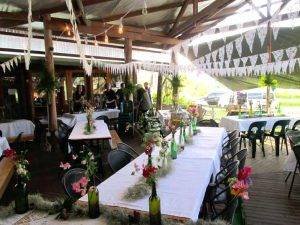 The Deck
The Deck is a unique venue for any event. It is popular for weddings and hosts regular music nights attracting artists from all over Australia. This covered and partially enclosed area is great for meetings, presentations, dining, markets, concerts, dancing and small scale theatrical performances.
PA and lighting are available for hire, and package options are available with Kitchen and Eco-Park hire.
The Kitchen
The Cooperative's commercial kitchen is located at the Village Green and is fully equipped for large scale catering. As well as regular use as a cafe for events on the green, it is a popular choice for catering for gigs, weddings, and courses.
The newly refurbished Kitchen (which is registered with the Sunshine Coast Regional Council) is equipped with 2 LUUS GAS 6 burner 900mm ovens, ample preparation areas (stainless steel benchtops), servery, pantry area, cool room, 2 refrigerators, 2 freezers, washup areas and sterilizer.
The kitchen area is 52.2 square metres. Some basic cooking utensils are supplied (pots/pans, urn, crockery/cutlery) with the kitchen and caterers using the facility are advised to bring their own kit to ensure they are adequately equipped for their needs.
The kitchen is housed in a multipurpose building with a covered eating dining area (The Deck), two side rooms (approx 34 square metres each) and an adjacent toilet area (two Male, two Female). 
The Community House and Carousel
One of the original buildings on Crystal Waters, the Community House is a conference, course and workshop venue with a difference. With it's quaint charm, this converted farm house it is the ideal location for more private meetings, but still only a short walk from the Village Green and Eco Caravan park.
Also available for hire, the Carousel, a circular building based around a central support pole, is conveniently located to be used as a childcare area. The Carousel is currently set up as a pre-school space where children & their parents gather for shared activities. However, the equipment & materials are packed away as much as is possible when not in use and the space is available for general hire.
Right next to the Village Green, the Paddocks are around five acres of fertile river flats. They are currently lightly agisted with horses, and have previously been used for organic dairy cows & free range egg production. Any proposed use would need to be organic (no petrochemical pesticides or fertilisers). Stock would need to undergo a quarantine period in the quarantine paddock prior to entering the property, to prevent introduction of weeds & diseases.
Contact Information
For all bookings, please contact the Facilities Manager
Phone: (07) 5435 0288
Email: crystalwatersfacilities@gmail.com
Please Note: if you are making a Group Booking, please check accommodation availability prior to your Facilities booking.