Tucked away in the hidden valley near Conondale, but only a short trip from Maleny and the Sunshine Coast, Crystal Waters is the perfect venue for gigs, workshops and small festivals.
Upcoming Events
Music Events coming soon… – see below.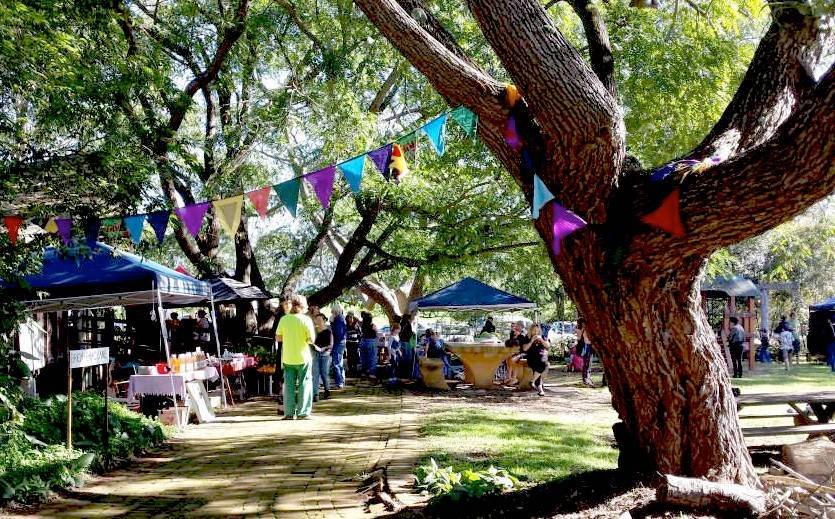 Crystal Waters Markets
The first Saturday of every month (EXCEPT January) 8am till 1pm
Next Markets… The 1st Saturdays monthly
Saturday Morning Coffee: The wood-fired sourdough bakery is open EVERY Saturday from 8am-1pm for bread, coffee and pastries.
So if you're nearby, pop in for a pleasant morning with the locals supping a great coffee and munching on one of Les' extraordinary sourdough croissants. The Crystal Waters Markets provides a wide range of Stalls, Food and interesting wares. Eftpos: Conondale store, 9km.
Coming Events at the Village Green – updated!
Dynamic Groups, Dynamic Learning' course
Dynamic Groups Course with Robin Clayfield
Dynamic Groups, Dynamic Learning' course at Crystal Waters EcoVillage
Please contact Robin for details on next Course Robin Clayfield
A 6 day teachers, facilitators and group leaders course offering a huge toolbox, skills and confidence in creative facilitation and interactive learning methods for people involved in Permaculture and all other industries.
After a huge tour of UK and Europe Robin will be happy to be home and present her course in her home community. email robin@earthcare.com.au
"If you're interested in professional development and working with groups, this course is awesome. Robin Clayfield is an amazing teacher and I'm grateful to have had the opportunity to take this course several years ago." – Anne Gibson, The Micro Gardener
Discover More at Robin's Dynamic Groups website
Dynamic Groups, Dynamic Learning' course at Crystal Waters EcoVillage Courses
| | |
| --- | --- |
| Click Here for the Poster | Click Here for the Poster |
Crystal Waters Music Club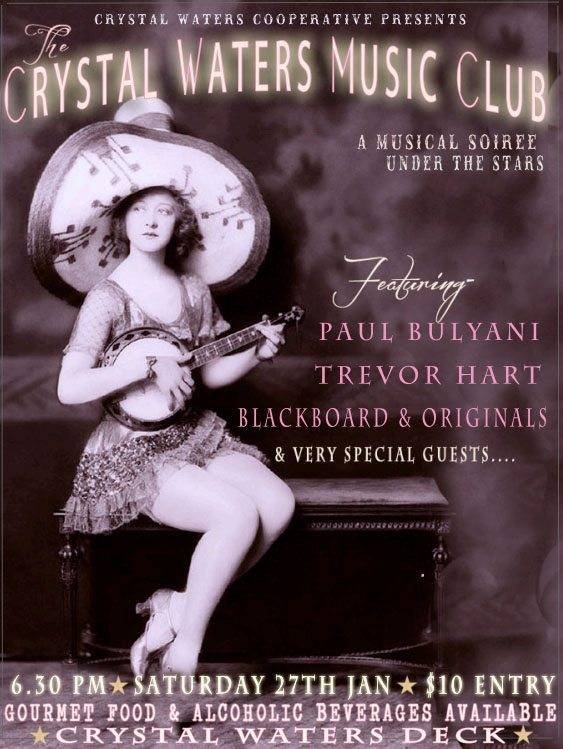 Announcing the first event of the Crystal Waters Music Club – the last Satruday Night every month (stay tuned for next date)
LAST MONTHS MUSIC CLUB EVENT WAS A GREAT SUCCESS: with musicians, Trevor Hart and Paul Bulyani. Both are now residents of Maleny and have done some amazing gigs together. The CW Coop will provide the bar and there will be food available.
Thereafter, events will be held on the last Saturday of each month on the Deck at Crystal Waters – 65 Kilcoy Lane, Conondale.
Trevor, when he's not making his famous Buffalo Mozzarella, is one of Australia's finest jazz trumpeters. He composes, arranges and as a band-leader has performed at the very highest levels.
Paul Bulyani is an awesome musician in many styles. He plays manouche Jazz with breath-taking speed and finesse. Fans of the band 'Monsieur Camenbert' will be familiar with Paul's superb controlled playing.
Upcoming Permaculture Courses or Workshops
The Crystal Waters Co-Op runs annual PDC Courses

2019: April
The 2019 PDC – Permaculture Training Certificate Course
---
Crystal Waters Chill Sesh
Come and socialise at the Village Green, relaxed atmosphere and Great Music! Next Dates to be advised

https://www.facebook.com/CWChillSesh/
Come enjoy the smooth & lively electronic sounds on the beautiful Crystal Waters Village Green.
Music from 3pm–
Suggested donation minimum $5. Please, no dogs, it's a wildlife reserve.
Morag Gamble & Evan Raymond of Ethos Foundation are running a variety of programmes,
details here Ethos' Permaculture Course
Visit Crystal Waters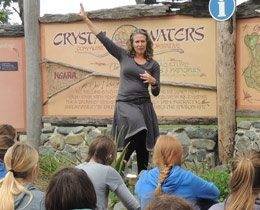 Contact Morag Gamble and Evan Raymond
Crystal Waters, home to 250 people and abundant wildlife, is a world habitat award–winning ecovillage and the first permaculture village designed in the world. Learn how the village was designed and established. Discover the many ecological design features which make it still a leading development after 25 years. Gain an insight into the community and what it is like to live in a pioneering sustainable settlement. Fee includes morning and afternoon tea, and a delicious lunch. Bookings here.
Recent Past Events:
ENVIRONMENT PARTY

Saturday 25th November 6pm – late

SOLSTICE ROOTS 2017

BLUES FOR PEACE

Sat May 28th, 2017
Cob Cottage Build Workshop ~ Earth Ripples
Download PDF information on the Workshop: Earthen Ripples Flyer.
Note: More Workshops planned at Crystal Waters, Contact Jane or through FB for info!
RECENT music EVENTS at Crystal Waters – on The Deck!
Solstice Roots 2015
The Zydeco Blues & Halloween Event was a great success recently
We recently enjoyed another evening of Dance & folly at Crystal Waters on The Deck. Stay tuned for announcements of next Music Events in the Spring!!
A Crystal Waters
Contra

Dance

and Solstice Celebration

Join The FUN!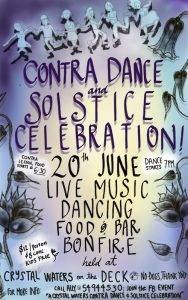 ---
Other Recent Events
With the likes of U.S. Drumming sensation Chris Berry, Melbourne's Rapskallion, Brisbane favourites Kooii, Byron jazz six-piece Red Bantoo and Tibetan acoustic fusion trio Tibet2Timbuk2 all gracing The Deck with their presence recently, we're able to provide entertainment that is as good as much larger venues.
Perhaps it's the natural setting, or the warm friendly vibe, but both performers and audiences have commented on how different it feels here with the music drifting out over the smiling faces and into the night.
We regularly host workshops on everything from Permaculture design, drumming, creating healthy relationships, personal development, dance, making sourdough bread, innovative building design, and holistic health.
Keep an eye out on the this page, like our facebook page, or contact us and ask to be added to our mailing list to find out about everything that's coming up!