Dynamic Groups, Dynamic Learning course: Teachers & Facilitators – currently underway
March 15, 2020 @ 9:00 am

-

March 20, 2020 @ 5:30 pm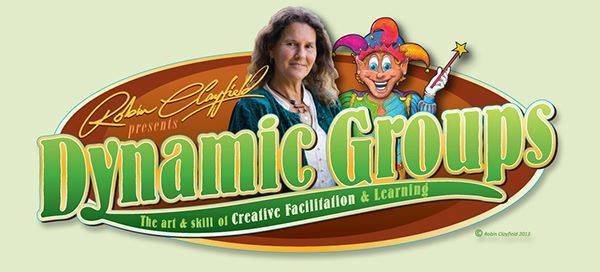 You're invited to this exciting intensive course, presented and facilitated by Robin Clayfield from South East Queensland, Australia!
In this yearly course, hosted in Robin's home community of Crystal Waters EcoVillage, you access all of her training resources and enjoy the very best catering from experienced community cooks in a fantastic triad of venues.
COURSE OVERVIEW
🙌 BEST PRACTICE – This course equips people with the understanding and skills of what is 'best practice' and leading edge learning and facilitation methods through immersion and practical hands on experiences.
💫HOLISTIC METHODOLOGY – This course models and creatively empowers participants to create their own 'dynamic groups' through putting together all the pieces of the jigsaw puzzle of what is important and often essential for effective learning and group work to be successful. This aspect probably makes it the most holistic learning methodology around. The 'Dynamic Groups, Dynamic Learning' methodology is used as the basis for the course and by the end everyone has had the experience that 'Magic happens in Dynamic Groups and learning happens easily'. Not only do they have this experience but they get to feel what it's like to facilitate this for others in the group.
👉 LEARN BY DOING – This course is about achieving more confidence, fluency and often mastery in the art and skill of facilitating learning; opposed to presenting or teaching information using methods classically taught in universities or teacher training colleges.
🦋 BROAD APPLICATION – This course is not designed to assist people to teach a specific subject or topic though it does do that naturally. It's aimed at supporting people to facilitate, teach, train or present any topic or subject or lead a meeting or group in a way that engages people, is motivating, fun and memorable and where everyone in the group has input and consequently is empowered by the experience. The success of these 'Dynamic Groups' is measured by smiling faces and virtually 100% positive feedback.
🧺 CREATIVE PLANNING – Creative planning methods and resource development bring much colour and aliveness to the course.
🧰 TOOLBOX – A huge 'toolbox' is built and expands throughout the course, full of creative processes, 'glue processes', all kinds of appropriate and useful processes.
🗯 INTERACTIVE – The things that really set it apart from other learning methodologies and courses is the interactive learning environment, the creative processes and the underlying commitment to the empowerment of every person and the group as a whole.
ABOUT THE FACILITATOR
Robin Clayfield is an international facilitator, educator, social change agent, permaculture pioneer and best-selling author from Queensland, Australia. She brings over 3 decades of permaculture facilitation, her cutting edge 'Dynamic Groups, Dynamic Learning' methodology, plus abundant skills, processes, passion and a deep love of group work and caring for people.
ATTENDANCE
This course is committed to delivering a diverse and comprehensive, positive educational experience. You are asked to aim to attend the whole course. Sometimes circumstances may prevent this, in which case we ask that you notify us in good time when you will be absent. We will in turn attempt to keep you up to speed with what you have missed.
PREREQUISITES FOR ATTENDANCE
None. The course caters to people who would like to teach, facilitate, educate and lead groups in a creative and interactive way and have no experience, through to people who are trained teachers working for the education department, corporate facilitators, yoga teachers, art therapists, permaculture activists etc. A trained teacher, who did a two day 'Introduction to Dynamic Groups' course, gave the feedback that he got more out of it than his whole teaching degree.
COURSE CULTURE
Everyone has their own unique skills, knowledge and areas of interest to bring to the course. The course embraces group work, creative and interactive processes, discussions, slide shows, observation, games and practical activities as learning methods.
This course is not just about imparting information, it is also about feeling empowered to integrate the learnings into your own life. Practical and theoretical teaching methods are used to create a fun, lively and inclusive course.
ACCESSIBILITY and INCLUSION
Robin hopes to make her courses accessible to all. Please connect if you have unique circumstances that need to be considered in order for you to participate. We will do our best to design a way to accommodate you.
DATES and TIMINGS
You are invited to arrive on Saturday late afternoon from 4 pm on 14th March to settle in, set-up in your accommodation and have a complimentary meal at the kitchen venue at 6.30 pm. Registrations can happen at this time or the following morning between 7.30 am and 8.45 am.
The course will run from Sunday Morning at 9 am on 15th March and will end officially at 5.30 pm on Friday 20th.
Sessions start each day at 9 am. There will be evening sessions on three nights. There is also time for socialising, networking, resting, informal learning, singing and general fun in the evenings (and some activities around the fire, weather permitting).
The last evening will be a celebration night. Everyone is encouraged to stay for that.
PLUS, there is a very special permaculture music gig the following evening, 21st March, featuring 'Formidable Vegetable'! It's highly likely you will want to stay for that – best to include this night in your accommodation booking to save your place.
Nearer the time, we will send out a group email to help you self organise any lift and carpooling.
COST
The course fee is by sliding scale, so pay what you are able. Payment plans are also available and can begin from your deposit.
• Waged Individual – $1095
• Concession (students, pensioners, unwaged) – $895 (limited to 6 places on a first-come-first-served basis)
• Government/Corporate/Organisation rate – $1295
Price includes all food (with lots of local and organic produce), all day tea/coffee, tuition, handouts, evening sessions, and resources.
ACCOMMODATION
The cost of the course does not include accommodation. There as several options at the Crystal Waters Eco Park, including:
$22 per night for Bunkhouse; $12 camping per person; $15 camping with power.
Private accommodation locally via Air B&B is also available.
BOOKING
To confirm your place, email Robin to receive your registration form. Once the registration form is returned, and your deposit of $300 is paid, your place in the course will be confirmed. (Your deposit is non-refundable unless it should be necessary for us to cancel this course for any reason)
CONTACT DETAILS
Telephone — 07 5494 4707
Email – robin@earthcare.com.au
Or see more info on Robin's Website: www.dynamicgroups.com.au
We look forward to sharing the 'Dynamic Groups, Dynamic Learning' course with you; inspiring you and providing many tools and gifts to take home.
Further details, such as directions and what to bring will be sent with confirmation of your booking.
We look forward to meeting you in March 2020!