Formidable Vegetable Music Gig at Crystal Waters EcoVillage – Postponed
March 21, 2020 @ 6:00 pm

-

10:00 pm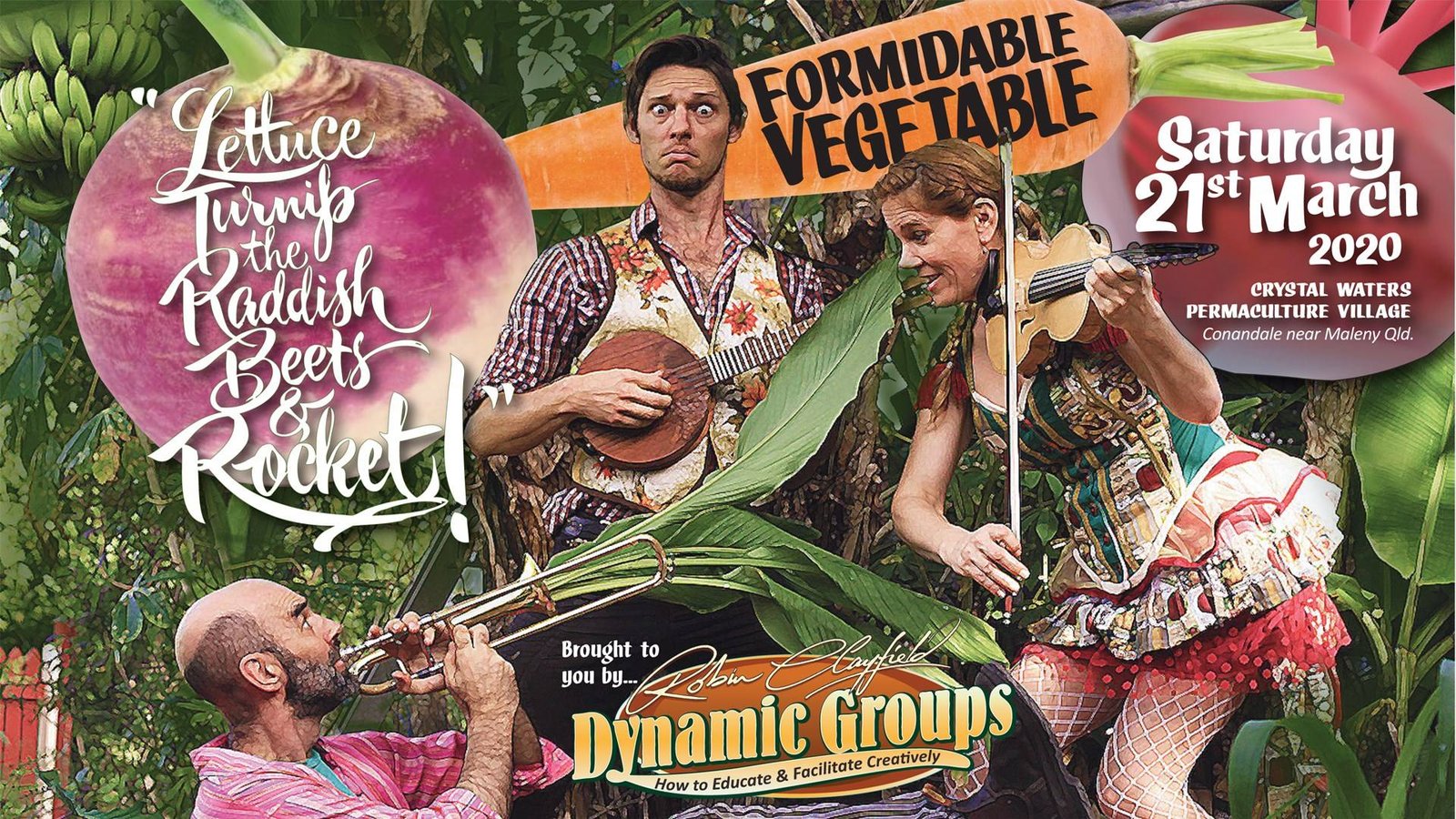 We apologise for the inconvenience – but this EVENT has been Cancelled and will be re-scheduled later in the year or 2021.
=====
Permaculture funk-swing for a changing world. Come dance, play and connect with other like-minded folks in a beautiful indoor, outdoor venue environment in the heart of a thriving Permaculture EcoVillage.
Playing at: Crystal Waters Permaculture EcoVillage
Lot 1, (The Village), 65 Kilcoy Lane, Conondale District via Maleny
Cost: Sliding Scale – $20 (Concession) or $25 (Waged) or $15 if you really can't afford more
Details: Dinner, Sweets, Chai available, Pizza Bakery Open from 6pm, Music from 7pm, Bar available (in support of Crystal Waters Co-op)
Contact: Robin Clayfield 07 5494 4707 robin@earthcare.com.au
Book: CLICK HERE
Lettuce turnip the radish beets and rocket!
At any given time, Formidable Vegetable consists of Charlie Mgee on Uke and vocals, Mal Webb on slide trumpet & trombone, Kylie Morrigan on violin and an untold combination of other virtuosic musicians, depending on which hemisphere they happen to be in at the thyme.
With a wheelbarrow-load of dirty electro radish-beets, crusty jazz ukulele, swingin' strings and hyperactive horns, Formidable Vegetable are here to sow the garden of your mind with seeds of future-resilience in the funkiest way possible.
Having planted their tendrils into every corner of the globe from Glastonbury Festival to the United Nations (who acclaimed them for "singing about the important issues of the world"), Formidable Vegetable is using their quirky brand of musical activism to de-pave the problems and grow fertile, abundant solutions in their place.
Over the years, they have become a favourite on the Australian and international festival circuits, having played at some of the biggest events in the world alongside Radiohead, Tame Impala and The Rolling Stones.
Realising that music is one of the best tools for learning and inspiring new behaviour, frontman Charlie Mgee has dedicated his musical mission in life to composing fun tunes on a ukulele about creating the kind of world we want to live in.
"So infectious that the most ardent climate sceptic would have trouble staying still"– Sydney Morning Herald.