Music Club March 27
March 27, 2021 @ 6:00 pm

-

10:30 pm

$15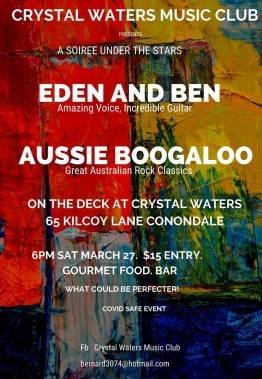 We have wonderful music lined up for this evening's event.

Eden and Ben are a couple of extremely talented young folk who are making quite a name for themselves on the local music scene.
Eden has a very haunting voice and sings her own songs as well as a beautiful interpretation of other songs.
Ben is an extraordinary guitarist. He plays a 7-string Classical guitar with great style and passion. Ben's repertoire includes originals, Classical, Flamenco, Jazz. All are played with amazing skill and virtuosity.
Ben and Eden will perform separately and as a duet.
A must-see act.
Aussie Boogaloo are a very tight trio who play all of the great Aussie favourites from the 60s to the present day. These 3 very talented musos have years of experience and never fail to impress with their tight playing and wonderful harmonies.
I hope you can join us on the Deck as we Soirée our heads off under the Stars.
There will be yummy food available. Bar Open. There will be a Bar selling Beers, cider, wines.
There will be a fire. There will be our lovely CW EcoPark for campers. There will be fun.
What could be more perfecter?
We'd love to see you there!