The Centre of Advanced Permaculture (CAP) led by Steve Cran, provide a range of essential skills for energetic people of all ages who see the need to stand up and be active in these challenging times.
In this 2-week Residential Course set in Crystal Waters Permaculture Village, you Learn to design and build resilient systems using locally available materials in all-terrains and climate. Steve has extensive experience in practical trainings in Permaculture, so this PDC is comprehensive with lots of hands-on practical. As a participant, you get to experience Permaculture and do organic gardening best practices with like-minded people. This Training is also designed to teach you how to adapt to social and climate change events.
* Covers all essential PDC curriculum Topics
* 50% hands-on real-time skills
* Sustainable livelihoods
* Alternative Building & structures
* Organic Vegetable production
* Soils, Seeds and sustainability
* Soils, Seeds and sustainability
* Design for your own property or for others
* Earth repair and environment regeneration
* Best-practices for climate adaptation & resilience
* We cover humanitarian & disaster response
… and more
This Permaculture "PDC" is also offered as an initial Permaculture Training experience for people wishing to advance their knowledge and abilities as a Permaculture teacher and field Trainer, into a 10-week Residential Programme. If you choose, you can integrate this PDC into the Full Program which is run here at CAP in Crystal Waters Permaculture Village. Discuss details with Steve.
The Centre of Advanced Permaculture has a mission to train new effective Permaculture teachers and project managers to a high standard. These trainers and project managers will seed further permaculture field schools and other CAP's around the world and link them with the central CAP. Currently, there are very few dedicated permaculture schools offering this level of training for permaculture trainers as a career path.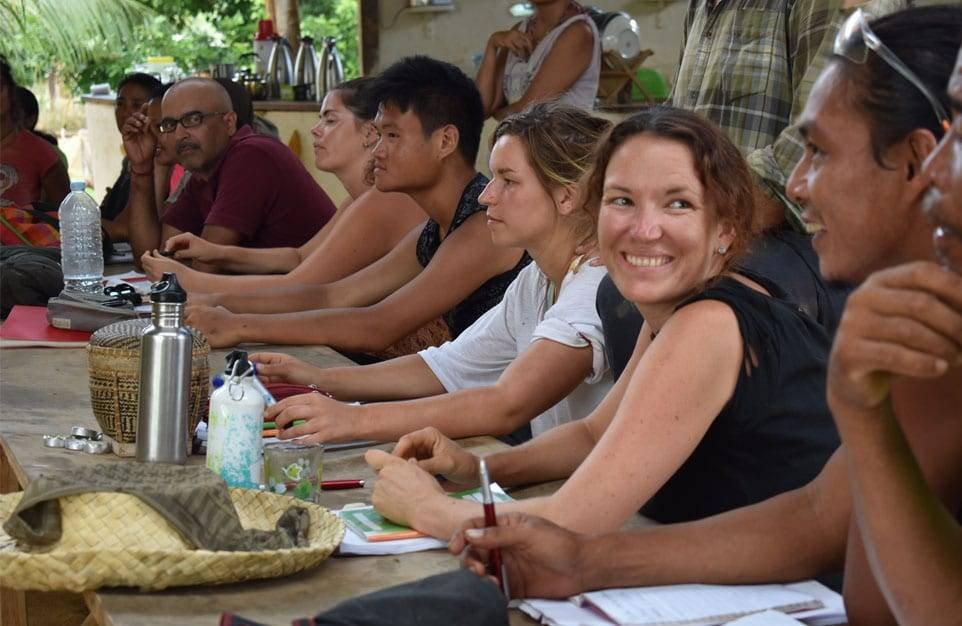 "The only future for the human race is a sustainable one, so let's make it so!"
Founder of CAP (Centre of Advanced Permaculture):
Steve Cran

Permaculture aid specialist, permaculture consultant, teacher, and climate adaptation specialist
Steve Cran is a Permaculture Aid veteran, teacher, social activist, climate change resilience specialist and a very handy guy to have around after a natural disaster. With a 30+-year career in Permaculture, Steve has developed effective, sustainable, recovery solutions for communities affected by natural disasters, war, or long-term poverty.
He was an early resident of Crystal Waters in the 90's then has travelled and taught Permaculture extensively Internationally. In 2019 Steve returned to Crystal Waters to develop a Permaculture School and Gardens to exhibit what's possible and to help stimulate the expansion of Permaculture in the Crystal Waters EcoVillage over the next several years.
Steve takes on the challenge of assisting people from all backgrounds and all types of lifestyles, to rebuild their resilience and sustainability knowledge so that those students can take their experience back into their own communities. Steve has developed projects in war zones, post disaster zones, poverty zones and in many difficult areas on this troubled planet where most people would not dare go. Here in Australia with both Locals and travellers – Steve now aims to show people how to use Permaculture strategies to develop places and Centres all around Australia as examples of what people can do in their own lives when given the knowledge and experiences such as what is taught in the Permaculture Design Course (PDC).
The 2-week Residential Course is now Open for a limited number of participants in the 2021 New Year
this course has now

completed!

 
Price: $1850 paid by February 6 (Couples: $3,000). $1,950 after February 6, 2021.
All Meals/Food is provided during the Course, with Camping & Accommodation nearby.
The location of the Course will mainly be on the Crystal Waters CAP Campus at upper Lot 1 above the roundabout near the Village Green at Crystal Waters EcoVillage in SE Queensland.
View Location and other details about Crystal Waters at www.crystalwaters.org.au
About Crystal Waters Permaculture Village
GATHERING OF CRYSTAL WATERS FOLK
Crystal Waters Permaculture Village was established at the headwaters of the Mary River in the Sunshine Coast Hinterland in 1988. Around 250 people live on 84 residential lots within the 650 acre property.
Enquiries
All Enquiries & Bookings can be directed to Bruce Gibson:
Updates
Add yourself to our News Updates for PDC Courses at Crystal Waters EcoVillage.