Welcome to Crystal Waters
---
Crystal Waters Permaculture Village in Australia, established in 1987, was the world's first intentional permaculture village and has since carried out pioneering work in demonstrating new ways of sustainable, low-impact living. As of 1996, there were 200 people living in the village, and this number has grown to over 250 people of all ages and from diverse cultures as of today​.
Crystal Waters EcoVillage is set in 640 acres of bushland at the headwaters of the Mary River, 26kms from Maleny or Woodford. It consists of 83 privately-owned one-acre plots, arranged in small clusters, large areas of common land and cooperatively-owned commercial properties including the Village Green and EcoPark Accommodations. Much of  Crystal Waters was designed using permaculture principles​.
The Village is classified 'Land for Wildlife' and is seen as a beautiful Australian Wildlife Sanctuary. We're home to a wide variety of local flora and fauna including numerous kangaroos and wallabies, as well as many types of birds and reptiles – we share our land with nature. We believe that our "No Cats & Dogs" policy has created this environment, which is conducive to nature, and therefore provides us with a peaceful living experience.
"Ngara", which means Hello in the local Gabi Gabi language.  ACKNOWLEDGEMENT of COUNTRY
With Respect, we begin by acknowledging the Traditional Custodians of the land on which we live and host the PDC, the Gubbi Gubbi and Jinibara peoples. We pay our respects to the Elders past, present and emerging and give thanks for their caring for country for so, so long. We are honoured to live and offer our work in these beautiful lands. Thank you.
---
---
Residential Community
With over 250 people living in Crystal Waters, and hundreds more in the local area around Conondale, Witta and Maleny, many of us enjoy regular events on our Village Green or on 'The Deck'. Crystal Waters Residents include a broad range of ages and cultures, the people who have come here to live are from all areas of the world and regions of Australia. We are a multi-cultural community and there is no set belief-system except for the common agreements of respect for the land, wildlife and for each other.
The residents living at Crystal Waters are people of all ages, nationalities and a wide variety of beliefs - just like in other parts of Australia. We are multi-cultural, multi-talented, and diverse in our interests and activities. Although some people choose a more secluded life, most who live here find enjoyment in interacting during either Events, at the Coffee Shop or Bakery, or at some of the Groups activities organised for anyone to participate in. Some are Permaculture related, but other groups are for music, yoga, classes, martial arts, weeding & bush regeneration, painting & crafts and more.
---
Events at Crystal Waters include Monthly Markets, Music Events, Permaculture & other Courses.
Community Calendar
Within the Crystal Waters Community, there is a range of activities and regular Events each Month. View the current Calendar here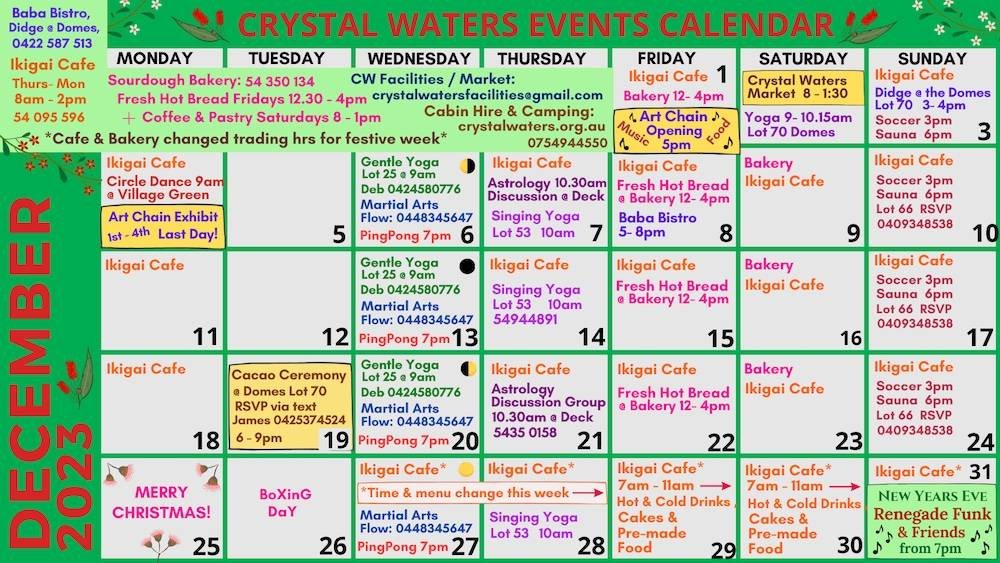 ---
Be sure to visit us on one of our Village Market days, or when other events are being held. All welcome!
---
---
2024 Monthly Markets. (1st Sat of the month) Saturday 8am to 1pm
The popular monthly Village Markets are held on the 1st Saturday morning of the month and provide a lovely village atmosphere with live music. Each Market Day features a lovely range of Foods served from the Kitchen at The Deck area.
The famous sourdough Bakery is open, serving coffee and pastries and selling fresh sourdough bread. Flowerpot Coffee Shop on The Deck is open each market day (and other days) serving a range of drinks, treats and small meals. Other Food and refreshments are available throughout the markets, and a variety of market stalls pepper The Village Green with interesting items and verve, complementing our great Live Musical talents.
Crystal Waters Market
The Crystal Waters Markets are held on the first Saturday Morning of every month except January.
Next Village Market dates:
Feb 3, March 2 and 1st Saturdays of month.

Nearest Eftpos: Flowerpot Coffee Shop
- and Conondale store, 8km
---
Crystal Waters
Documentary Video
Watch it now to learn more about Crystal Waters Eco Village.
---
---
Visiting Crystal Waters
To appreciate what Crystal Waters has to offer, we recommend taking a guided tour, or staying with one of our accommodation providers. These include the Village Camping Area, a great place to "Get Away", which has camping, bunkhouse and cabin options. Click here to make a booking.
Crystal Waters is also a wildlife sanctuary...
Crystal Waters is also a wildlife sanctuary and has a policy of "No Dogs or Cats" on Crystal Waters land, as such, please be aware of this Policy when you are visiting.
Many species of birds, as well as kangaroos and wallabies, abound on the Crystal Waters property.
We actually have one of the most abundant populations of Birds, frogs and many other Australian creatures - of anywhere in Australia!
This is due to our NO DOGS OR CATS Policy, as well as the extensive tree-planting that has been performed over the last 30+ years.
Getting Here
Important – Some GPS systems or Google Maps may direct you to take Postman's track. **This is a narrow, steep and potentially dangerous road. Large Vehicles or Caravans are not allowed. We strongly recommend you take the Maleny-Kenilworth road option instead! Coming through Maleny is a good way to go.
---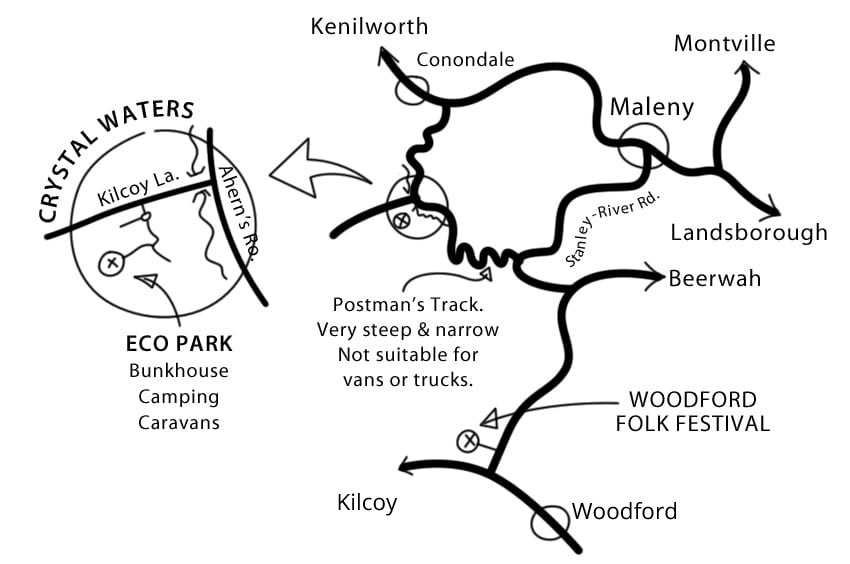 Ally & Crew runs our local Cafe, with great Coffee and a variety of Drinks & lovely Cakes, pies and other great Food available. Situated on the Village Deck, a great atmosphere in the centre of The Village.
OPEN Times: Thursday through to Monday, 8:30am to 2:30pm Phone: 07 54095596
---
Friday nights 'Baba Bistro'
Friday nights 'Baba Bistro' presents a delicious selection of cuisine on The Deck. We often have music entertainment each Friday night at Baba Bistro!
OPEN Times: Friday 5:30 pm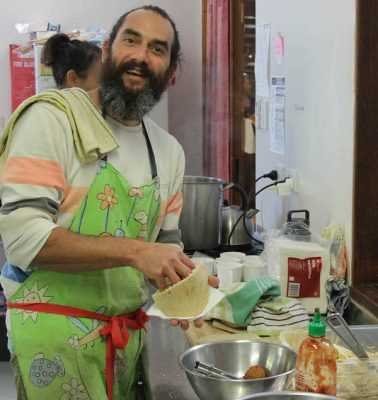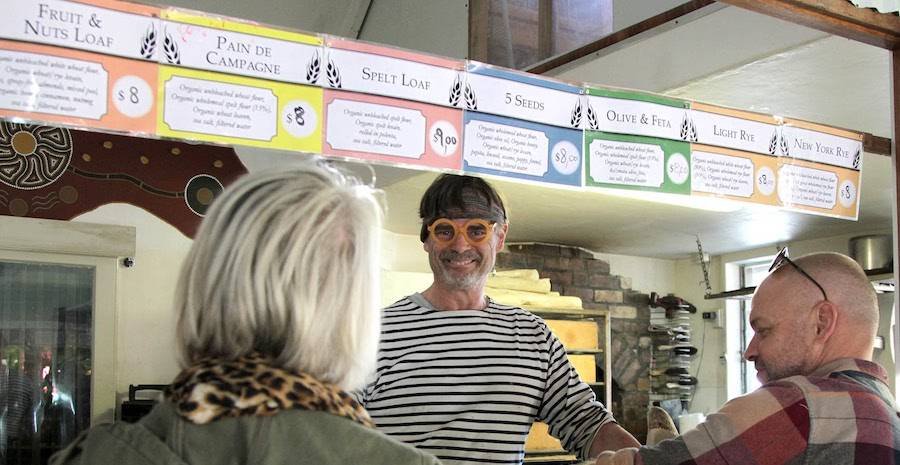 Sourdough Bakery
The wood-fired sourdough bakery is open EVERY Saturday from 8am-1pm for bread, coffee and pastries.
Superb, healthy Sourdough Breads & more!
Call Bernard The Baker: Ph 54 350 134
Crystal Waters hosts a variety of touring and local acts, festivals and markets. 
Check out the

Events page

for a rundown on what's coming up soon.