Crystal Waters Eco Village is set in 650 acres of bushland at the headwaters of the Mary River, only 26kms from Maleny or Woodford. The Village includes privately owned residential lots and co-operatively owned commercial properties and was designed along permaculture principles.
The Village is classified 'Land for Wildlife' and is seen as a beautiful Australian Wildlife Sanctuary. We're home to a wide variety of local flora and fauna including numerous kangaroos and wallabies, as well as many types of birds and reptiles – we share our land with nature. We believe that our "No Cats & Dogs" policy has created this environment, which is conducive to nature, and therefore provides us with a peaceful living experience.
With over 200 people of all ages living in Crystal Waters, and hundreds more in the local area around Conondale, Witta and Maleny, many of us enjoy regular events on our Village Green or on 'The Deck'. The popular monthly Village Markets are held the 1st Saturday morning of the month and provide a lovely village atmosphere. The famous sourdough bakery is open, serving coffee and pastries and selling fresh bread. Meals are also available at the markets, and a variety of market stalls pepper The Village Green with variety and verve, complementing our great Musical talent. Be sure to visit us on one of our market days, or when other events are being held. All welcome!
Crystal Waters administration has both a Body Corporate to manage common property, Roads, Dams and Land Management plus a Community Co-operative which runs the Community areas and EcoPark visitors area, Village Markets and an annual Permaculture Design Course or PDC.
Visiting Crystal Waters
To appreciate what Crystal Waters has to offer, we recommend taking a guided tour, or staying with one of our accommodation providers. These include the Village Camping Area, a great place to "Get Away", which has camping, bunkhouse and cabin options. Click here to make a booking.
Crystal Waters is also a wildlife sanctuary and has a policy of "No Dogs or Cats allowed", as such, please be aware of this Policy when you are visiting. Many species of birds as well as kangaroos and wallabies abound on the Crystal Waters property.
Village Camping Area – Eco Park
Getting Here
Important – Most GPS systems direct you to take Postman's track. This is a narrow, steep and potentially dangerous road. Large Vehicles or Caravans are not allowed. We strongly recommend you take the Maleny-Kenilworth road option instead! Coming through Maleny is a good way to go.
Directions: From the Sunshine Coast or coming off the Bruce Hwy, drive through Maleny following the Kenilworth Rd toward Conondale. Then 18km from Maleny, turn left into Ahern's Road. Follow the blue signs to Crystal Waters, turning right into Kilcoy Lane.
The Village Green & The Deck Function Centre is on your left on Kilcoy Lane, after crossing the Bridge, about half a km from the turn off.
To reach the Eco Park & Camping Area, continue along Kilcoy Lane past the Village Green, turn next left into the Crystal Waters property, take the left exit at the roundabout, then next right & follow the signs to the end of the lane to the Eco Park and Camping Area.
Crystal Waters Market
The Crystal Waters Markets are held on the first Saturday Morning of every month except January.
2019 Monthly Markets = Saturday May 4, June 1, July 6, Aug 3, Sept 7 …
8am to 1pm
ALL WELCOME
Please see details on The Crystal Waters Monthly Markets here. Nearest Eftpos: Conondale store, 9km.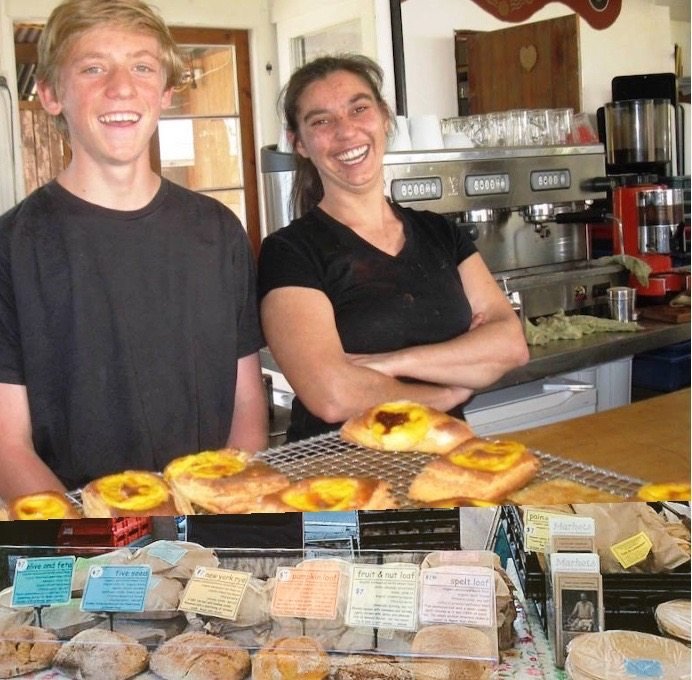 Sourdough Bakery.
The wood-fired sourdough bakery is open EVERY Saturday from 8am-1pm for bread, coffee and pastries.
So if you're nearby, pop in for a pleasant morning with the locals supping a great coffee and munching on one of Bernard's extraordinary sourdough croissants.
Flowerpot Cafe
Ally and Flynn run our local Cafe, with lovely Cakes, pies and other great Food available.
Open On Tuesday, Thursdays & Fridays & Sunday for Lunch, as well as Market Days.
Crystal Waters hosts great touring and local acts, festivals and markets
Check out the Events page for a rundown on what's coming up soon.