Village Markets
---
The Crystal Waters Markets have resumed
2021 Monthly Markets is on Saturday 8am to 1pm.
Markets OPEN for June 5, 2021
July 3, August 7, Sept 4
The Crystal Waters Village Markets is a lively Monthly Event when many of the locals and visitors come for the fun and sharing.
Stall-holders: please contact Jacqui to reserve your Stall
Jacqui on: 0431 184 855 or cwmarkets@crystalwaters.org.au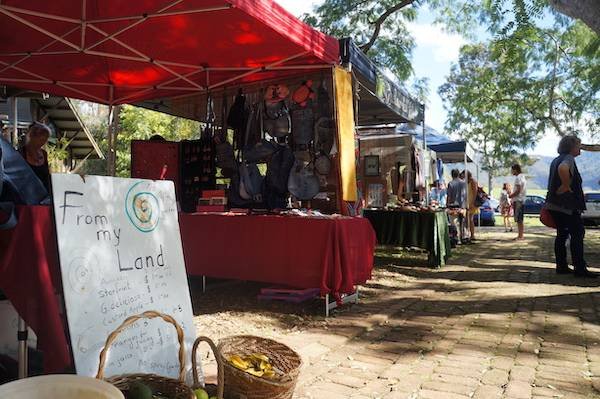 The Crystal Waters Country Market, held 8am to 1pm on the first Saturday of each month (except January), is renowned for its friendly, relaxed community atmosphere, a showcase of local produce, healers and crafts set in an idyllic rural setting.
You'll experience:
• the opportunity to buy from stall holders their local produce & handcrafted wares. You'll find fresh organic veggies, sourdough bread direct from the wood-fired oven, cakes, dips, plants, seedlings, local honey, kombucha, smoothies, up-cycled and recycled treasures, clothing, books, massage, acupuncture, face painting, delicious meals, snacks, chai, great coffee and more.
•  The Bakery, Kitchen and Flowerpot Coffee Shop are always open for delicious food and drinks. Other vendors and stalls are also available.
• Participate in a relaxed and enjoyable Yoga Vinyasa Flow class on the lawn amongst nature 9.00 - 10.15am with Casey / this will be held at Q - Lot 64!
• fun and play for your children at the playground. There's ample space too for your children to play games on the grass or for adults and families to bring a blanket and enjoy a picnic.
•  Monthly dress-up theme with prizes for best dressed.
Come prepared:
•  wifi is available, Phone reception is intermittent.
•  Bring your cash. 
    Eftpos is available at the Flowerpot Cafe Shop & at Conondale Store, 8km.
• No cats and dogs: Crystal Waters is a Wildlife Sanctuary with a strict "No Cats or Dogs Allowed" policy. We have an abundance of kangaroos, wallabies, other Australian native wildlife and bird varieties which attracts many visitors.
Stall holders WELCOME for all our Market Days!
Like to hold a stall?
• Our prices are from $15 per stall
• You must have a relevant License from the Health Department if you serve food
• For more information or to book contact the Market Organiser
Jacqui on: 0431 184 855

or cwmarkets@crystalwaters.org.au
If you have questions, just ask us!
Like the Crystal Waters Markets page on Facebook Here, for updates.