Scroll Down for information and registration Add yourself to our Permaculture Mailing List
Australian Permaculture Course with leading Permaculture educators.
Experience eco-village living at Crystal Waters Eco Village.
Crystal Waters Eco Village near Maleny / Conondale will again host a Design Course in Permaculture next April 2019. Max Lindegger who has 38 years background in Permaculture will lead the 2-week intensive programme, with well-known local Permaculture author and trainer, Robin Clayfield as one of the guest presenters. Permaculture is a design system that attempts to emulate nature and covers a wide range of topics on ecological living, from energy efficiency to sustainable and organic agriculture, water, sun, food and soil, and living in harmony with our environment. The idea of permaculture as 'permanent agriculture' is evolving. Initially it was envisaged that a grass-roots movement could bring about an agricultural transformation by designing and living on richly diverse, food-self-reliant homesteads. What about our reliance on metals for tools, glass for windows, and plastics for water pipes? Our inescapable dependence on industry and far-flung resources – hence roads & transport and large-scale political/economy – requires an expanded, all-inclusive view of permaculture design as ethics-centred, whole system design. Richard Mochelle (Ph.D) will introduce this topic. Crystal Waters developed over 29 years ago along Permaculture principles and now houses over 220 people of all ages in 83 properties, on the 650 acres of bushland at the headwaters of the Mary River. Abounding with wildlife and birdlife, Crystal Waters is a nature sanctuary worth experiencing. The Village Green is also a place for regular social interaction with events and monthly markets. The Ecopark camping area provides a good place for visitors to stay during events and Permaculture courses. During this PDC, students will experience Permaculture first-hand through visiting several local properties and hearing from people about their practical experiences on their land. The Course starts on April 29, 2018 and is internationally accredited for those who wish to become Permaculture Consultants.
In honour of the late Bill Mollison
Thank You Bill for your inspiration & legacy!
The Crystal Waters Permaculture Course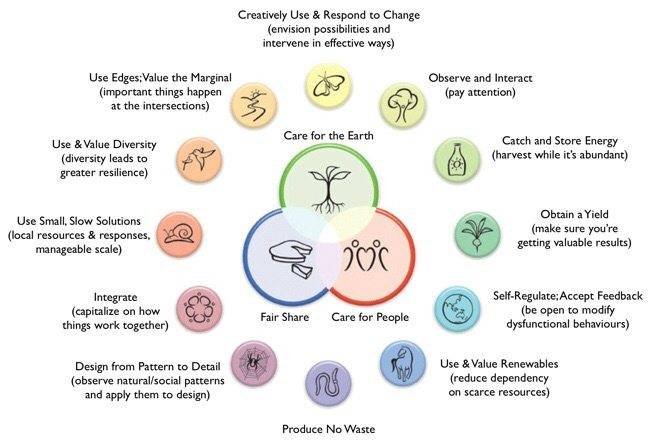 Some of the subjects covered in this PDC Course include:
Introduction to Permaculture

History, Principles & Ethics
Observing Natural Systems
Patterns in Nature
Permaculture Design concepts

Zone and Sector Planning

First Steps in design
Zone One Planning

Water in the Landscape

Basic principles, construction, keyline
Aquaculture concepts
Dam construction and methods towards drought proofing
Dealing with waste systems

Zone One System

Establishing productive gardens
Weeds ID & management
Toward all year production
Seed saving, seed raising
Pest management – a healthy garden without poisons
Making liquid fertilizers

Establishing Orchard Systems

Selection criteria
Planning in time and space
Maintenance of fruit trees

Animals in the PC System

Keeping animals for food or profit; from Bees to beasts

The Place of forests

Visit to local CW forest areas
Establishing & maintaining forest systems, tree choice
Windbreaks and their design

Soils

Leanne Harper

: (Home Soil Solutions) Important steps to improve soil conditions
Nutrients & Microbes
Understanding soil tests
Organic matter & Composting
Green manures & mulching

Healthy Building

Visit to low-energy Home example (Barry Goodman)
Towards energy efficient design
Myths and facts about energy systems & materials
Visit to natural building examples

Village Design

The CW story – the challenges and lessons learned

Community Food Systems

The school gardening scheme
City Farms, community gardens

Urban Issues

The place for Permaculture in high density environments

Applying your skills

Some business development ideas & discussions

Robin Clayfield

: Working as a Permaculture Designer, making a living
Social Permaculture
Group Dynamics

Introduction to Ethics & Whole Systems Design.

Richard Mochelle

(see description below)
Creating good Design

Guidance in steps to Permaculture Design for a piece of land
Past student's Design examples PDC 2015/16/17
Practical experience in Permaculture Design development
Discussion & Feedback on Student design exercises
[/cs_section]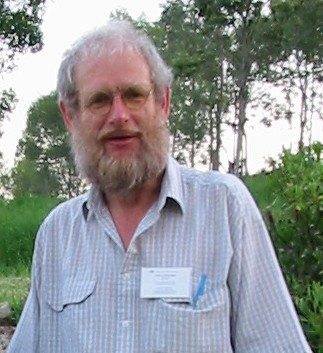 Principal Instructor
Max Lindegger
Max was invited by Bill Mollison to participate at the first Permaculture Course in 1979 and he also took part in the second course the year after. Since then he has been teaching Permaculture courses from the UK to the US, from Denmark to Macau and from Argentina to New Zealand and has been consulting on the subject in over 60 countries. Together with his wife Trudi he has been experimenting with Permaculture at Crystal Waters for over 30 years. They keep cattle, grow vegetables, fruits & nuts and keep bees. Beekeeping is one of Max's real passions. Max continues to volunteer in Cambodia & downtown Manila where he searches for solutions which can help the poorest.
PLUS a diversity of Guest Instructors with a variety of interesting Topics
The Permaculture Course at Crystal Waters is Instructed & Facilitated by Max Lindegger, but we also have a unique lineup of very experienced Guest Presenters. Our special Guests include: Robin Clayfield, Barry Goodman and Richard Mochelle. *Update: We are pleased to now announce the addition of two new Guest Presenters who both have significant contributions in the PDC: Annaliese Hordern & Leanne Harper (Home Soil Solutions)
PDC Featured Guest Presenters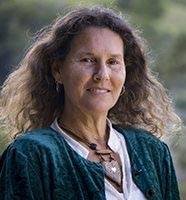 Robin Clayfield
Robin has been teaching Permaculture for over 30 years, has presented Permaculture Courses, training and workshops in Dynamic Group Facilitation. Since the late eighties Robin Clayfield and Earthcare Education have been creating, developing and pioneering Dynamic Groups – Dynamic Learning, a methodology for education and group work. She is an Author of several Books and Learning materials and presents her work extensively around the world. Her particular input to our PDC will be about 'Making a Living in Permaculture', 'Working in groups' and on Social Permaculture. We are honoured to have Robin as a Guest Presenter at Crystal Waters PDC.
Several other Residents in our Crystal Waters Village also contribute to this Course in various ways & we are very grateful for the wide support this PDC Plus Course receives, it could not be a success without their valued input! We are also fortunate to have the input into this Program by Dr Richard Mochelle, as follows:
---
Whole Systems Design:
Dr Richard Mochelle
On Day 1 Richard introduces the essentials of Ethics, and how we can explore a range of ethical and system design choices – beyond the mainly agricultural focus of the PDC – choices which he argues each of us needs to consider and agree upon if we want a sustainable and just future world. Another Session explores what could develop for Urban culture if people were to serioulsy create better Sustainable technologies and behaviours. Springing from an early career in architecture, Richard's career segued into environmental design education, future education and subsequently into moral, political and systems philosophy. His academic pursuit has been augmented by 3 decades of experimentation with school and community groups in search of effective ways to enable individuals to explore and envision ethically-based alternative futures. Richard's university experience in recent years with lecturing and conducting workshops in ethics and whole systems design underpins the new course he is developing for offer at Crystal Waters.
Annaliese Hordern
Annaliese joins the Crystal Waters PDC Team for the second time in 2017 and brings a wealth of practical experience and enthusiasm for Permaculture. With already several years experience in Permaculture and Teaching in PDC's in Australia and overseas, we welcome Annaliese and look forward to her valued contribution to the Crystal Waters Permaculture teachings. Annaliese is a passionate Permaculture educator committed to evolving an inclusive and interactive teaching style, fostered by some of the great Permaculture pioneers. She is also a research consultant on Permaculture designs, presents at public events and facilitates community workshops. Annaliese is excited by curriculum development, designing new leaning tools and mentoring her students towards their personal goals in sustainability and design. Localising food and preparedness for community response to disaster is important to her. Inspired by wilderness and interesting useful plants, she is involved with conservation of important plant medicines in the Amazon Rainforest. Annaliese is a director of Permaculture Australia, is a regular attendee of Permaculture convergences and is rising in the next generation of Permaculture educators.
Leanne Harper
Leanne's presentation on Soils (and the importance of soil nutrients) last year at the Crystal Waters PDC was well received and it soon become clear that Leanne has an extensive knowledge on the topic. We recognise the significance of understanding the SOIL in Permaculture so are pleased to welcome her back for a longer session this year. Leanne believes that minerally balanced, biologically active, well structured soils are the basis for plant and animal health, and also the mental, physical and emotional health of our people. She has grown food in her own garden organically for many years, and the "green" chapters of her life include, permaculture, rainforest revegetation, ecological agriculture/biological farming, and now Home Soil Solutions, her own small business, which offers soil analysis and soil mineral balancing to the home gardener. She also contracts to the home garden division of Nutri-Tech Solutions®, and to professional landscape soil manufacturers.
Course Venue
The Permaculture Course is held at the beautiful Crystal Waters Permaculture Village, Sunshine Coast Hinterland, Queensland, Australia. Lessons are held in the purpose built Eco Centre at the Village Green, and at permaculture properties within Crystal Waters.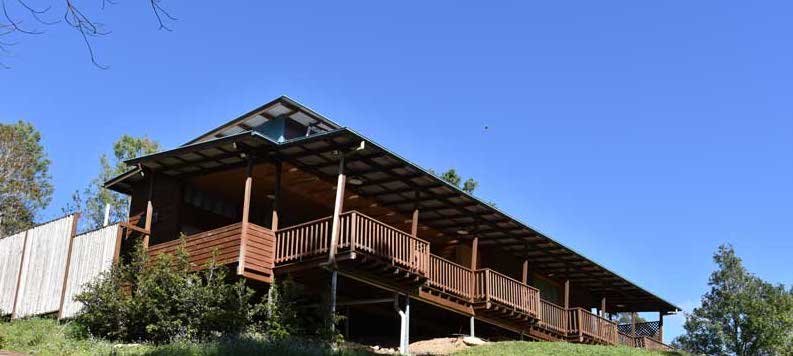 Meals are served from the licensed commercial kitchen on the Deck on the Village Green, just a couple of minutes' walk from the Eco Centre. The Food prepared in the Crystal Waters commercial kitchen uses locally sourced and organic (where possible), not processed food ingredients. The Menu is based on healthy foods with vegetarian and non-vegetarian choices, and prepared with love, providing a variety for your enjoyment. The Meals are provided Smorgasbord style, with an enjoyable eating & sharing atmosphere created on the Crystal Waters "Deck" near the Village Green and close to the Eco Centre Teaching Venue.
Course Accommodation
Camping is offered at Crystal Waters Visitors Camping Area, only 7 minutes walk to The Village Green & Eco Centre. Or you can upgrade Accommodation to one of the Bunk/cabin rooms.
The park has a good Amenities block with hot showers and laundry facilities, there is a covered Camp Kitchen setup with hotplates as well as a large open fire pit. Set in a lovely bush setting with wildlife (mainly Kangaroos & Wallabies) and bird-life in abundance.
If Camping, you will need to bring your own Tent & bedding and all your personal needs.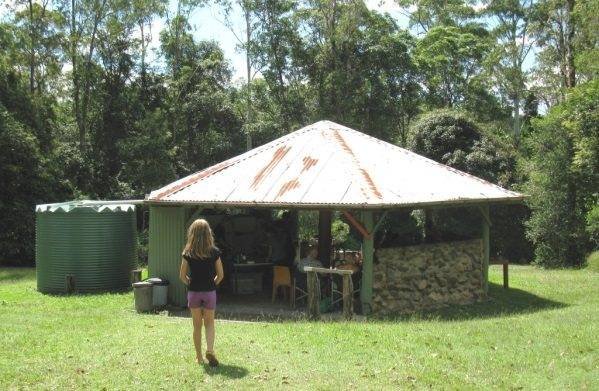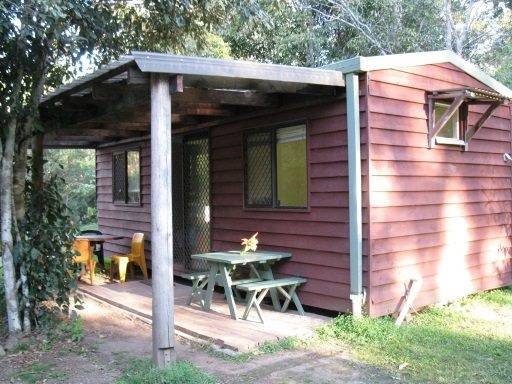 Other accommodation is available within the "EcoPark" – Crystal Waters Visitors Camping Area or with Residents in the Village by prior arrangement for an extra fee for the 14 nights: (subject to availability – book early). Amenities (shower & toilets) are nearby and a Camp Kitchen is here with Fridge space.
Please check the availability and rates and Book with the EcoPark Manager: Greg.
Bunk bed in shared room at EcoPark Bunkhouse. (8 beds available in 2 bunk rooms – shared.) Pay extra $25 per night/person. Special rate for the PDC is: $270 for the 14 nights of the Course. Add $12 per person (once) if linen required.
Private Room or Family room at Bunk House (in EcoPark, 2 available rooms – please check on current availability), Pay extra $700 (2 weeks)(1 available).
The Cabin (1 currently available), at EcoPark, double bed room (& fold out double sofa bed). Pay extra $720.00, (2 weeks).

Bedding extra: Q: $15 & S: $13 per bed or supply your own.

A Cottage is available at Max Lindegger's, contact Max for details (07 54944 741)
Or, subject to availability there are some other Accommodation options at Crystal Waters. Please Contact Us to discuss any of these Options.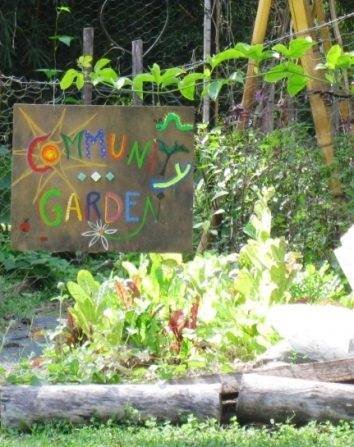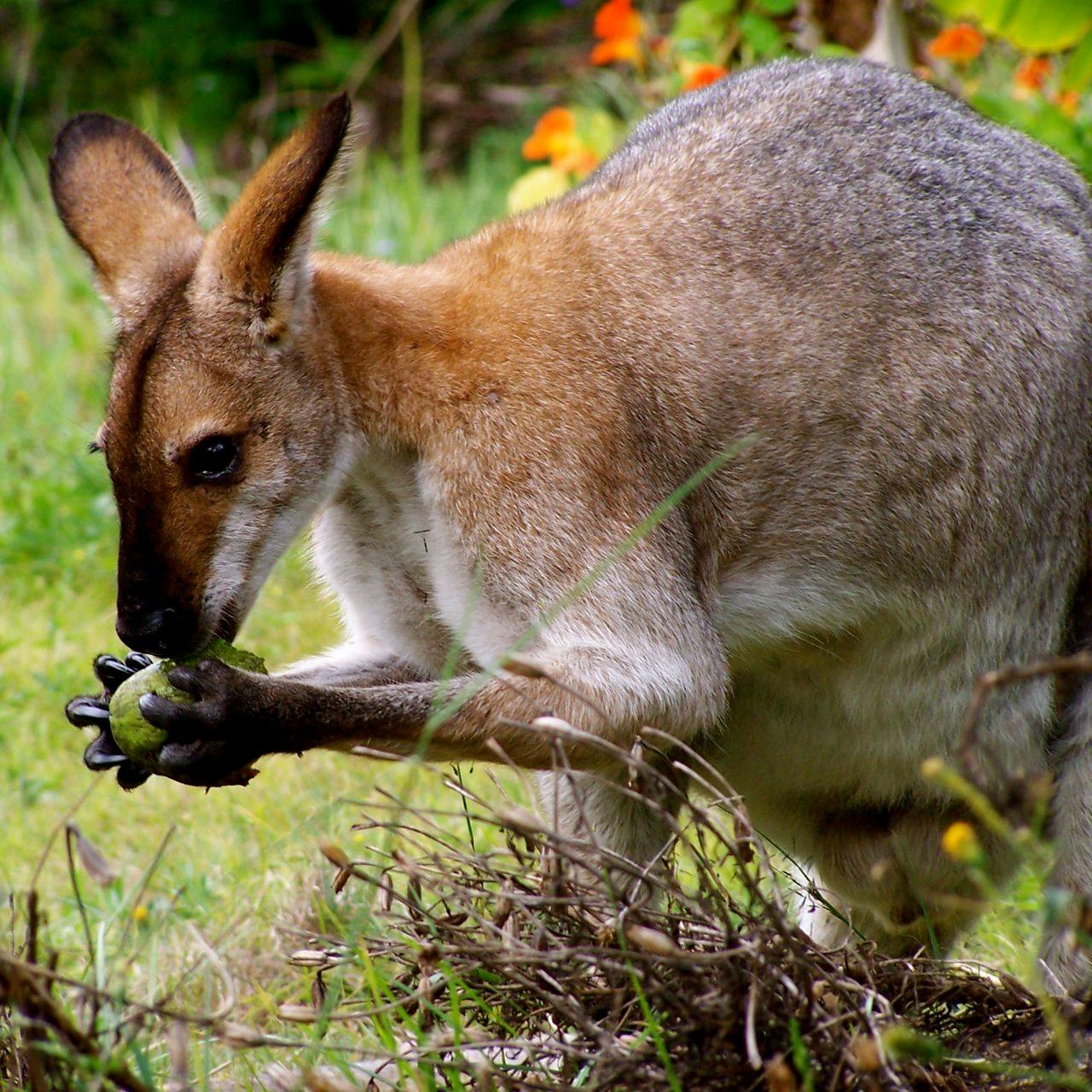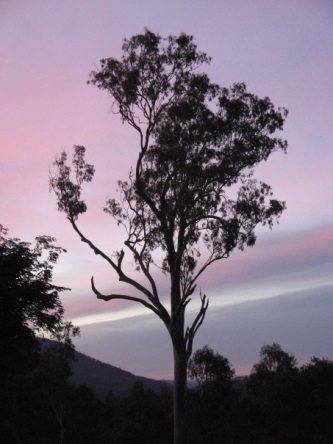 Bookings
Dates:
April 29 to May 11, 2018
Permaculture Course Fees
(includes All Meals)
*Full Course Fee AU$ 1,950
plus accommodation (camping is just $150)
Book Early as places do fill quickly. We now have 5 vacancies remaining.
If your application is not successful for this PDC Course, we provide a "waiting list" for the next PDC at Crystal Waters when it becomes available
The Fee includes all meals, manual and certificate, but you must Register now. (Note for International Students; currently $AU1950 is about $US1550)
You can secure a position in the Course for as little as $100 deposit, with Payments Plans available – then full Payments should be completed by last week of March.
Course fees include:
All Meals included: Breakfast, lunch, dinner, morning & afternoon teas.
72+ hours teaching time, with comprehensive course notes provided in your PDC Manual
PDC Certificate as a "Permaculture Designer"
Permaculture Design Certification as approved by Bill Mollison (a founder of Permaculture)
Eco Village living experience in the award winning Crystal Waters Permaculture Village
Visits to eco homes and gardens to experience, learn & share Permaculture practices with community members
Social & local sightseeing events, experience the wildlife and the experience of being in an Eco Village!
Camping at the "EcoPark" – Crystal Waters Visitors Camping Area (Eco Caravan Park). The Fee for Camping during the 2-week Course is $150 pp and single bed Bunks are available (you get about 10% off normal fees).
Accommodation at the Crystal Waters EcoPark / visitors camping area should be arranged with the EcoPark Manager, Greg. Go here for info and Contact.
Other accommodation options are also available on request at an additional cost.
About Crystal Waters Permaculture Village
GATHERING OF CRYSTAL WATERS FOLK
Crystal Waters Permaculture Village was established at the headwaters of the Mary River in the Sunshine Coast Hinterland in 1988. Around 230 people live on 84 residential lots within the 650 acre property.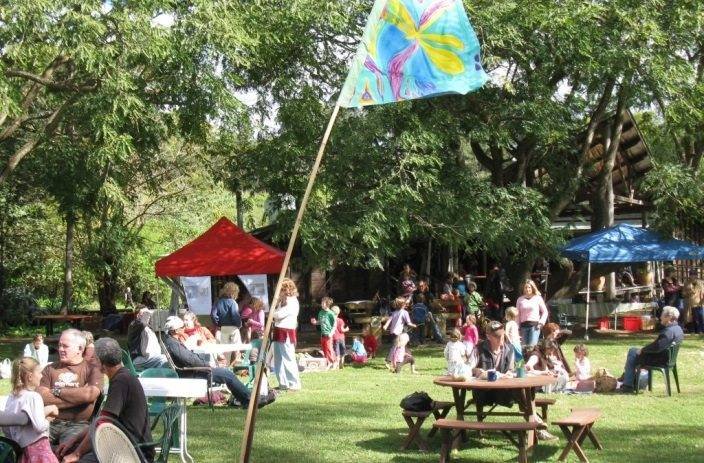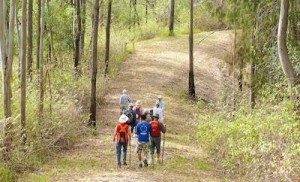 On the Saturday in the middle of the PDC course, the Crystal Waters Monthly Market welcomes you to enjoy the relaxed and creative ecovillage ambiance on the Village Green. Fill your basket with local organic fresh produce, freshly baked sourdough organic bread, veggie seedlings, herbs, raw honey, gourmet foods, handmade soaps, and a range of other products. Shiatsu, acupuncture and massage are also available to help you unwind. Enjoy food and drinks from the cafes and food stalls and take in the morning program of live music and childrens activities offered on the green.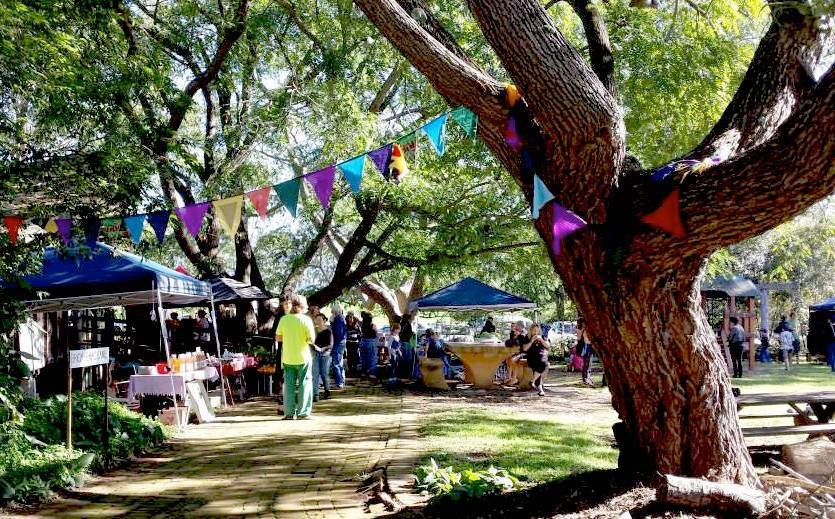 All Enquiries & Bookings can be directed to Bruce Gibson, The PDC organiser on behalf of the Crystal Waters Community Co-op:
Email: permaculture@crystalwaters.org.au (Bruce Gibson)
Phone: 0429 455 200 (Bruce), or 5494 4620 (Co-Op Office) (within Australia), + 61 7 5313 4019 (from overseas)
Mail address: 4/65 Kilcoy Lane, Conondale, Qld 4552, Australia
Updates
Please add yourself to our News Updates for this PDC Course.
Stay in Touch
Visit our Facebook Page for updates and announcements.