Restrictions Due to Covid
Mask wearing & social distancing
Relax, enjoy nature & restore your energy
at the Crystal Waters "EcoPark"
With powered and unpowered van and camping sites, plus bunkhouse rooms and a small cabin there are options to suit most visitors. While we try to make the visit to the EcoPark a good getaway from stresses of city living, we do provide some basic creature comforts including an amenities block with male & female toilets, hot showers and laundry, a BBQ and a covered Camp Kitchen with cooking facilities.
The Conondale General store is a 10 minute drive away, this is the perfect balance between roughing it and convenience.
Public WiFi is available in the Ecopark and Village Green/Deck & Cafe.
Crystal Waters Village is home to around 250 people and we ask that you respect the privacy of our residents on their private lots during your visit.
While the Village Camping Area / Eco Caravan Park is surrounded by bush, there are several residences nearby and sound does travel. We ask all visitors to respect the peace & privacy of our neighbours, and noise levels must be kept down after 9pm.
How To Make a booking Here
Scroll Down for more details.
Please Note: Crystal Waters is a Wildlife Sanctuary and as such we have a Policy of "No Cats or Dogs Allowed" (sorry!).
We have an abundance of Kangaroos, Wallabies, other Australian native wildlife and many Bird varieties and this is an attraction to many visitors.
The Bunkhouse
With plenty of space, and protection from the elements, the bunkhouse is perfect for groups of friends, large families and backpackers. The bunkhouse has a small fridge & kettle, in addition to the facilities available at the shared eating area.
A bunk bed in a shared room is only $30/person per night. There are up to 4 beds per room.

Camping
Affordable sites and with beautiful walks and spots to relax nearby, the camping sites at the Eco Park are a great option for those who enjoy the relaxing bush setting, birds & wildlife and gazing into the clear night sky.
( Note: Total fire ban in summer months )
A camp site for a Tent is from $15/night per person. A powered camp site is $18/night per person. Prices include GST.
---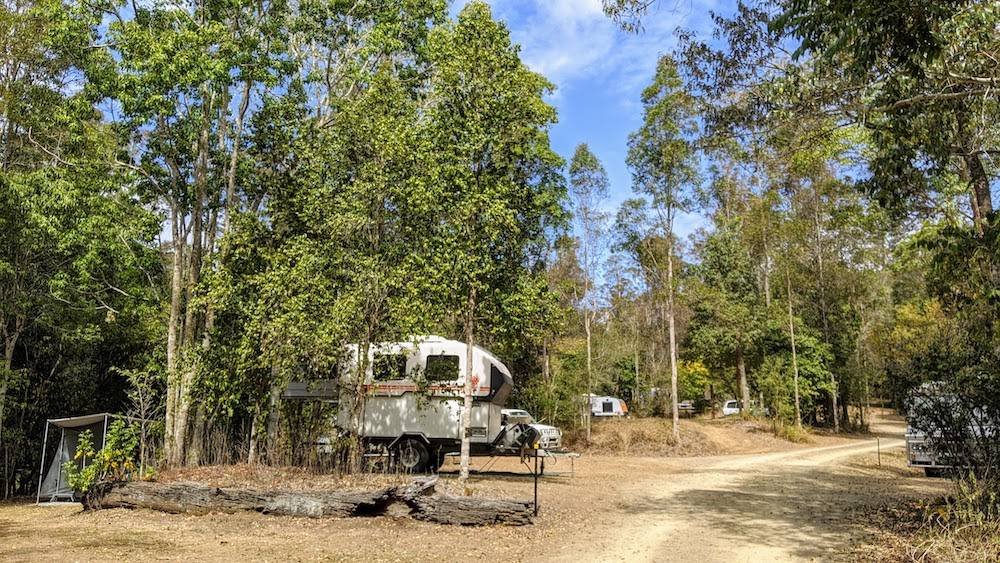 Caravan, Camper Van Sites & Motor Home Sites
Powered with a nearby amenities block, and beautiful natural surroundings…. what more could you ask for?
A Van, Caravan or Campervan site is $20/night per Site (1 Person) plus $15 extra person. Children 4-14 - $7/night. Under 4 is free. Prices include GST.
Powered Site for Motor Homes: Single person; $20 per night / couple; $35 // children under 14 are $7 extra per child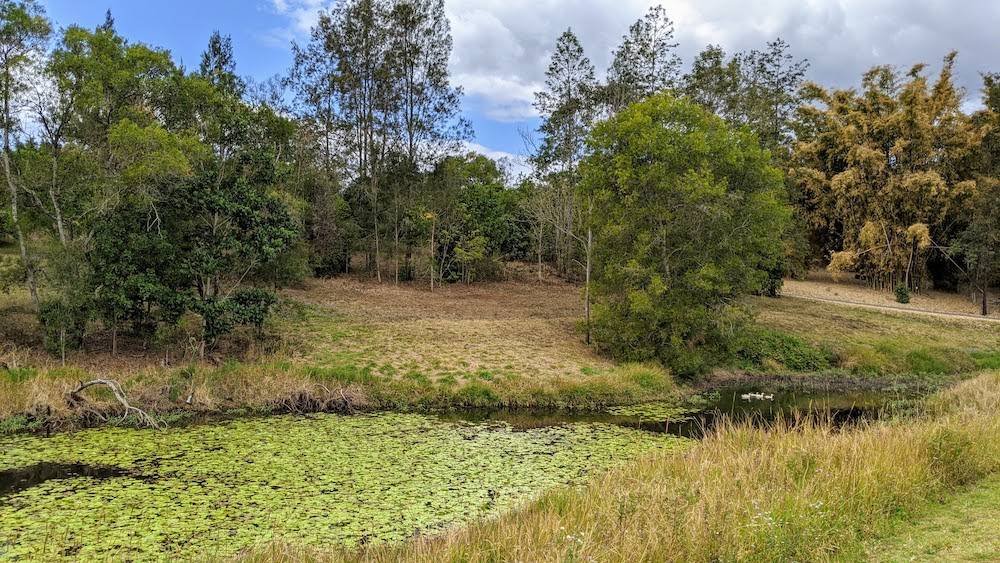 The Cabin & Family Rooms
For those that prefer a little more privacy than tent walls provide, and aren't quite ready to miss out on all the creature comforts. This cute cabin includes a double bed and double sofa bed, kitchenette and television. Capacity 1-4 people. The cabin is equipped for basic meal preparation; fridge, stove, toaster, electric kettle, crockery, cutlery, basic pots and pans etc.
We have 2 Family Rooms in our Bunkhouse providing privacy, Queen beds, an additional single bed and more space.
The Village Visitors Area Facilities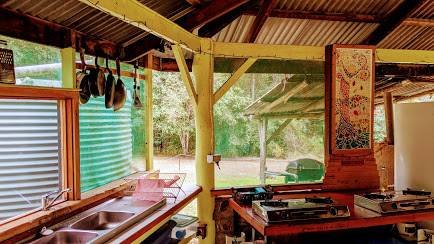 ---
BBQ and Gas cookers
Camp Kitchen (with fridge)
Laundry
Hot showers
Toilets
Garden areas
Roads are safe for kids Cycling/Running
Walking Tracks
River & dams nearby
Car park
Onsite Caretakers; Ayca & Greg
WiFi available by request
Children's play areas nearby
Flowerpot Cafe on The Deck open some days
Saturday mornings Coffee & 'Sourdough' Bakery
Getting Here
*View the MAP on this website Frontpage here

Important – Most GPS systems direct you to take Postman's track. This is a narrow, steep and dangerous road that has cost car owners a lot of money and could cost you your life. We strongly recommend you instead take the Maleny-Kenilworth road option instead!
Pets
Please note that pets are not allowed, as even the most friendly pets can have a negative impact on our local fauna.
Booking details Here
---
For more information or discuss details: Please use email where possible Email Greg & Ayca at Ecopark
EMAIL PREFERRED
To phone the Manager – Greg on (07) 5494 4550 (only 9.00am to 5.00pm) and please leave a message if un-answered.
* Reception hours vary. Please make sure you make contact in advance.
If the EcoPark (Village Camping Area) is unattended when you arrive, please fill out the self-registration form at the Desk near the Amenities (Toilet/shower block) and indicate if payment has been made.
TINY HOME?
Interested in bringing your Tiny Home to the Crystal Waters Eco Park - medium to long term Site rentals available, Contact the Eco Park Manager for details!
Other Information
* If the EcoPark (Village Camping Area) is unattended when you arrive, please fill out the self-registration form at the Desk by the Toilet block & arrangements will have been made for check-in.
- Please be aware that Crystal Waters is a Nature Reserve and NO Cats or Dogs are permitted.

Children are welcome. There is a children's playground at the Village Green that includes a sand pit, swings and climbing equipment, and a sunken (ground level) trampoline.
- Hot showers, toilets, clothes washing machine & dryer (small fee) are located in the amenities block in the centre of the EcoPark.
- There is minimal mobile phone or television reception at Crystal Waters. We can direct you to a nearby mobile reception area if you need to stay connected to the outside world! We now have Digital TV via satellite if you have your own equipment.
- Camp Kitchen: You will need to self-cater meals most of the time. There is a well-equipped camp kitchen with cookers & fridge and a BBQ.
Cost extra :$3 per person per night for all campers )
- Breakfast, lunch & snacks will be available (only) at the Flowerpot Cafe (open Fri-Sun + Tuesdays) and monthly Markets at the Village Green on the first Saturday of the month (except January).
On other Saturday mornings at the Village Green the wood-fired bakery sells fresh sourdough breads and coffee;
Crystal Waters Bakery ( Managers Bernard & Chiya ) : Open : every Saturday 8 till 2 pm /
/ Wednesday evenings for Pizza, phone order is best : Also Hire for special occasions 54 350134
* Flowerpot Cafe Coffee Shop ( manager Ally) : On the Village Deck. The Flowerpot Cafe is open each Friday, Saturday, Sunday & Tuesdays for Coffee, Teas, Cakes & small meals, cold drinks and more.
* Baba Bistro ( by Yoav & Bec) : Friday evenings On the Village Deck. Live Music.
- The Conondale General Store is 8km from Crystal Waters and provides a General Store with basic provisions, some food items and fuel. The townships of Kenilworth & Maleny are both around 30 minutes drive away.
- On most Friday evenings, on the EcoCentre big screen, there is a movie for members of the community***, $6 entry**, visitors welcome. Good idea to inquire if you are interested. ***Doors open at 7.30pm and the film starts at 8pm.
- Walks. There are several walking tracks along the creeks, gullies & ridges within the property which you can explore – you can pick up a map at the Eco Park. Tours are also available.
FIRES
Camp Fires :
All camp fire must be in a brazier or similar or not at all !
You also need to supply your own wood :
All fires must be extinguished thoroughly :


( Total fire ban in summer months or when notified )